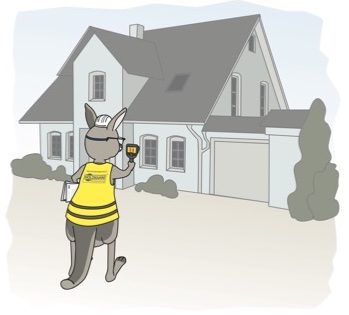 Thermography uses the state that all bodies with a temperature above absolute zero emits intrinsic radiation (electromagnetic radiation), which is due to internal mechanical molecular movements.
The thermographic cameras available on the market differ in summary by the type and number of detectors and the spectral range of the cameras. there are medium-wave devices (according to DIN 54190 these are devices from 2 to 5 µm) and long-wave devices (according to DIN 54190 are devices from 8 to 12 µm).
Thermographic examinations on buildings and components are suitable, for example, for the non-destructive testing of the following circumstances:
energy losses due to poor construction work
construction defects in the building envelope such as B. avoidable thermal bridges etc.
air leaks such as leaks in the airtightness level etc.
fluid leaks such as leaky or broken water pipes etc.
damage caused by moisture and water in general
cable fires and suchlike
concealed ailing components (limited) and component connections damaged due to aging
heaters and installations
etc.
However, building thermography makes little sense under certain conditions or the measurement results are sometimes significantly falsified under these conditions. These include, for example:
wind, fog, haze, rain, snow
increased dust formation in the air
for components warmed up by the sun
reflective components such as glass or shiny, smooth metal surfaces
almost identical room and outside temperatures
ventilated masonry, curtain wall (only indoor thermography useful)
thermally non-conductive plastics and suchlike
etc.
The basic prerequisite for qualitatively usable building thermography are temperature differences between the inside and outside area or the component to be measured and its surroundings, which at best differ by at least 10 to 15 ° C (depending on the quality of the camera) entire measurement period. Appropriate qualifications in the field of measurement technology, thermodynamics, building construction, but also building physics are required for professional thermography. In order to obtain meaningful thermographic images, the images should in some cases be made on both sides of the component under consideration (e.g. from the outside and from the inside). In addition to this, in addition to thermography, other measurements are often to be carried out, such as determining the air humidity (hygrometer), the air speed (anemometer), the component moisture and the like).
The expert office Holzmann-Bauberatung® carries out thermographs with medium and long-wave devices. Building thermographies with regard to energy losses via the building envelope are only carried out in the most suitable winter months due to the necessary general conditions. Early registration is required for these measurements. Damage thermography such as leak detection is offered all year round. The costs for expert thermography by the Holzmann-Bauberatung® expert office are fundamentally dependent on the type of thermographic camera used, the necessary examination times and the type of expert opinion requested, which are offered as follows:
brief report with a brief explanation and a rudimentary illustration
detailed construction report for court reports, insurance reports, arbitration reports, evidence preservation procedures or similar