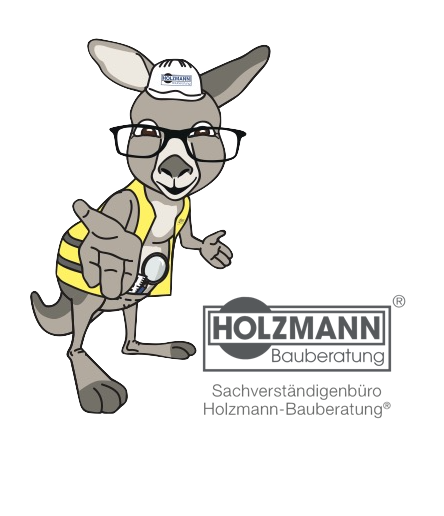 At the Holzmann-Bauberatung® expert office, you can obtain all types of building appraisals with the DEKRA seal, which means that you will receive expert reports in a monitored (certified) DEKRA standard that are recognized.
The neutral and independent construction supervision (accompanying construction controlling or construction quality control) offers additional security so that construction processes, construction times and ultimately financial requirements are adhered to.
Generally speaking, such construction supervision by an independent and neutral construction expert can minimize the following risks, for example:
design and planning errors
Incorrect specifications
High end costs due to incomplete / unclear offers
high number of director's hours
Increased prices due to construction delays
Concealed construction defects and damage
Billing errors & billing fraud
Disregard of accident prevention regulations
Delays due to improper site setup
use of non-agreed or defective building materials and building products
etc.
The expert office Holzmann-Bauberatung® is at your side in all service phases in relation to work for new buildings, modernizations, conversions or refurbishments (also in the preservation of historical monuments) for quality monitoring.
For example, the following tasks are carried out:
control of the specifications and offers
Monitoring of construction work
Monitoring for compliance with the building permit
Monitoring for compliance with monument conservation requirements
Monitoring of compliance with the execution plans and specifications
Monitoring for compliance with current standards and other requirements
Acceptance – Inspection
Accompanying and checking the rectification of defects
Involvement / cooperation with a specialist lawyer (construction law – architect law)
Auditing
Keeping control records
etc.
For legal questions and problems, we offer our clients contacts to approved and experienced lawyers from the building and architectural law.
The type and scope of the inspecting and supervising construction-related services are agreed with our clients according to their wishes and planned accordingly, but can also be adapted during the current order, as far as can be planned. As a rule, inspection tours on the construction sites take place unannounced and discussions with those involved in the construction with prior appointment.
The costs for a construction expert activity in relation to construction supervision by the expert office Holzmann-Bauberatung® are fundamentally dependent on the type and scope of the desired services and the time required for this.